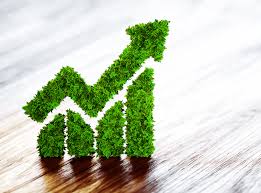 Green bonds encourage sustainability and support climate-related or other types of special environmental projects. The distinct characteristic of a green bond is that the proceeds are used exclusively to finance or re-finance environment-friendly projects, such as clean water and renewable energy.
Green Bond Principles (GBP): In Nigeria, the National Green Bond Guidelines and Principles are issued by the Federal Ministry of Environment to facilitate the process for the issuance of Green Bonds targeted at the Nigerian market. To qualify as a green bond, the proceeds of these bonds must be invested in one or more of the following projects: (a) Renewable energy; (b) Energy efficiency; (c) Pollution prevention and control; (d)Terrestrial and aquatic biodiversity conservation; (e)Clean transportation; (f)Sustainable water management and waste management; (g) Climate change adaptation; (h)Green buildings which meet regional, national or internationally recognized standards; etc.
Who Are the Issuers? Green bonds have historically been issued by multilateral lenders such as the World Bank, the African Development Bank and the European Investment Bank. However, corporates have increasingly issued green bonds to increase market appeal to a broader investor class, and particularly if the proceeds will be used in any case for environmentally friendly projects such as development of renewable energy.
The Nigerian Stock Exchange (NSE) released draft guidelines for the listing of green bonds that provide that the issuer shall (i) clearly state that the bond is a green bond; (ii) comply with relevant Rules; (iii) demonstrate issue's comply with the green bond principles; (iv) open and prudently manage an escrow account specifically for the net proceeds of the issue; (v) report on use of proceeds; (vi) publish annual reports; (vii) appoint an independent external reviewer.
Benefits of Green Bonds include: (i) all the benefits that regular bonds provide such as low risk, fixed regular income, tradability, tax savings and capital appreciation; (ii) greater level of transparency and institutional accountability than regular bonds; (iii) enhancement of the reputation of institutions that offer green bonds; (iv) support from development organizations and governments For more on green bonds, kindly send an email to toluwase@tonbofa.com
Subscribe to our free newsletter.
Special Purpose Acquisition Companies"SPACs" also known as blank check companies are duly registered public limited companies, formed to raise capital in an Initial Public Offering ("IPO") with the purpose of using the proceeds to acquire one or more unspecified companies, businesses or assets (target companies) to be identified after the IPO. Spacs have been used […]